Announcements & Special Events
History of the Community of Christ in Nauvoo, IL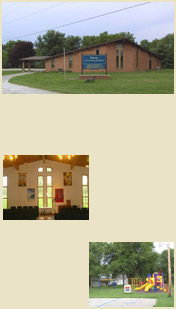 On April 6, 1830, Joseph Smith, Jr. founded the Church of Christ at Fayette, N Y. After much persecution in New York, Ohio, and Missouri, the Church found refuge in Nauvoo, Illinois, in 1839. Joseph Smith, Jr. was killed by a mob at Carthage, Illinois, June 27, 1844, and by 1846 most of the church members had left Nauvoo.
On April 6, 1860, scattered members met as a conference at Amboy, Illinois, to reorganize the church. Joseph Smith III, oldest son of Joseph Smith, Jr., was ordained President of the reorganization. He returned to Nauvoo where his Mother, Emma Hale Smith, and family had continued to live after his father's death. Other members soon returned to Nauvoo. Meetings were held in the homes of Benjamin Austin and William Marks. As the congregation grew, it became necessary to find a meeting room, and the upper room of Joseph Smith, Jr.'s Red Brick Store (Constructed in 1841) was prepared for the services. The congregation called itself "The Olive Branch", and Joseph Smith III was installed as pastor. In 1867 Joseph Smith III moved his family to Plano, Illinois. With the departure of Joseph III, the meetings dwindled in attendance, and in 1875 "The Olive Branch" disbanded. In 1890 the Red Brick Store was sold and razed, and the bricks were used for the Hudson Meat Market, and are now a part of Hotel Nauvoo, on Mulholland street in Nauvoo. (The Red Brick Store was reconstructed in 1980 on the same site as the original store.)
In 1906 a few members organized a Sunday School in the old C. W. Reimbold building, with Mark Siegfried, a school teacher in the area, serving as Superintendent.
In 1918, John W. Layton, and his wife, Ida, were sent to Nauvoo by the church to restore the Joseph Smith homes, and to be caretakers and guides. Soon they were joined by four other families and meetings were held in their homes.
The present day Nauvoo congregation was organized March 19, 1921, by Apostle Ulysses W. Greene, and R. V. Minton served as the first pastor.
In 1920, the church bought at auction the First Ward two-room school, located at the corner of Main and Hotchkiss Streets for $1800.00.
On December 24, 1988, the Nauvoo Congregation dedicated their new brick church building, located at Highway 96 and Water Street, and invite all to share their commitment to build Communities of Joy, Hope, Love, and Peace.